ReLEx smile
"I'd do it again in a heartbeat - no big deal."
~ Janina Pfau, blogger, Hamburg (ReLEx smile)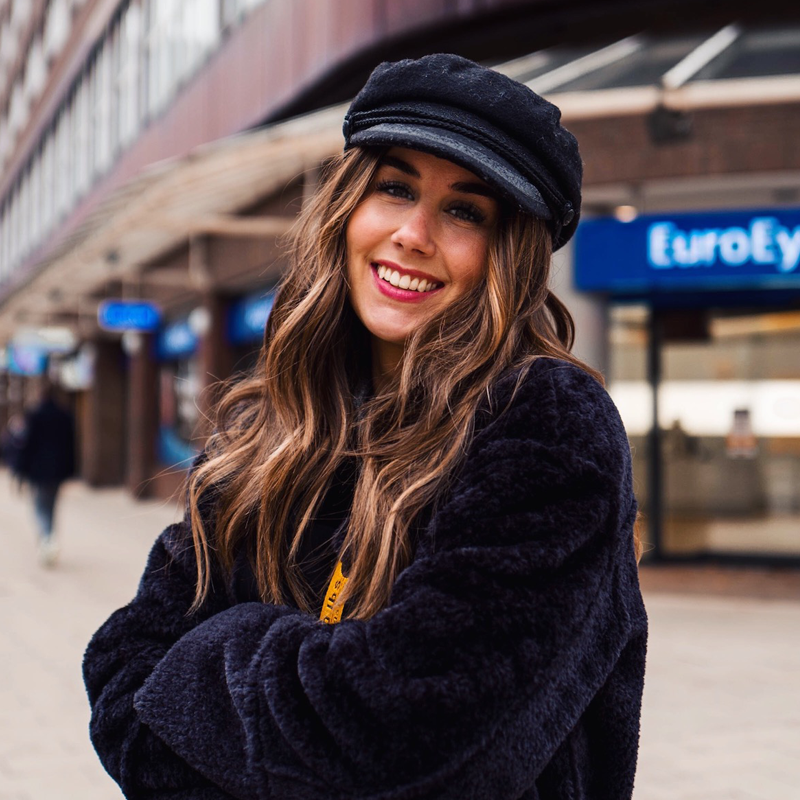 Janina Pfau is a self-proclaimed "Fashion Lover & Globetrotter" and successful blogger living in Hamburg. Since she was young, Janina had been dependent on visual aids, but immediately decided to wear contact lenses instead of glasses. Why she finally made the decision to get laser treatment, whether her life as a globetrotter was influenced and if she would recommend EuroEyes to others, you can read below:
How long have you worn glasses?
When I was 16 years old, I noticed that my eyes were getting worse and decided to wear contact lenses right away. The glasses just bothered me. In the beginning there were no problems with the contact lenses, those only came with the long working days.
What did you find particularly inconvenient?
You're constantly disturbed in your everyday life, whether it's glasses or contact lenses. Because I wore the lenses for quite a long time at a stretch, I always had dry eyes. That was really unpleasant!
To what extent did visual aids interfere with your job as a blogger?
The contact lenses burned my eyes, especially on long days. Since I also fly a lot in my job, the dry air from the airplane was especially uncomfortable for my eyes. Besides, you can't sleep properly on an airplane. Glasses always give a certain look, and I like to be versatile – even with sunglasses, I could not just buy any that I liked, either with a corrective prescription, or to wear with my contact lenses. Spontaneity was very difficult.
How did you come to the decision to have the operation? Were you scared?
I used to have to deal with dry, burning eyes every day. But my mother had lasers years ago and she was very satisfied, so I talked to her about this possibility. At the beginning of this year I wanted to have it done right away, but I was just too scared. My eyes are a bit sensitive anyway and I really needed to be 100% confident. Luckily I went to EuroEyes and I am super happy. The whole team is really great! Also many thanks to my doctor Dr. Jørn Slot Jørgensen. He had a really calming and nice manner and of course he has an incredible amount of experience.
What was your feeling after the ReLEx smile treatment, how did the healing process go?
For the first 3-4 hours after the treatment, my eyes were burning a bit, and of course a bit sensitive to light. However, as I was quite exhausted by the operation, I immediately got some sleep at home. The next day I could see everything, of course without pain or complications. After about a week I was able to carry out all my professional tasks again. Since I look at screens quite often, it was still a bit exhausting in the first days. But as I said, after a week I actually didn't notice that I had ever had an operation. I am so incredibly satisfied!
Would you recommend the treatment to others?
Yes, I felt changes immediately. Already 11 days after the surgery I flew to Lanzarote for work and had very long days there. In addition to that, it was often very windy on the island, which would have caused me a lot of trouble with contact lenses. So I had no problems at all! Shortly after that I was in Cape Town for two weeks; previously I would have had to not wear my contact lenses on the days when I was at the beach or pool, and of course I would not have been able to see as well. Thanks to my new, 100 percent vision, I was able to enjoy this great country from morning to night, every day in perfect sharpness. I would do it again immediately – no big deal.