Implantable Contact Lens
"It's so fascinating that I can see things very clearly now!"
Christin Deege, 33 years old, online marketing at Second Elements (Implantable Contact Lens)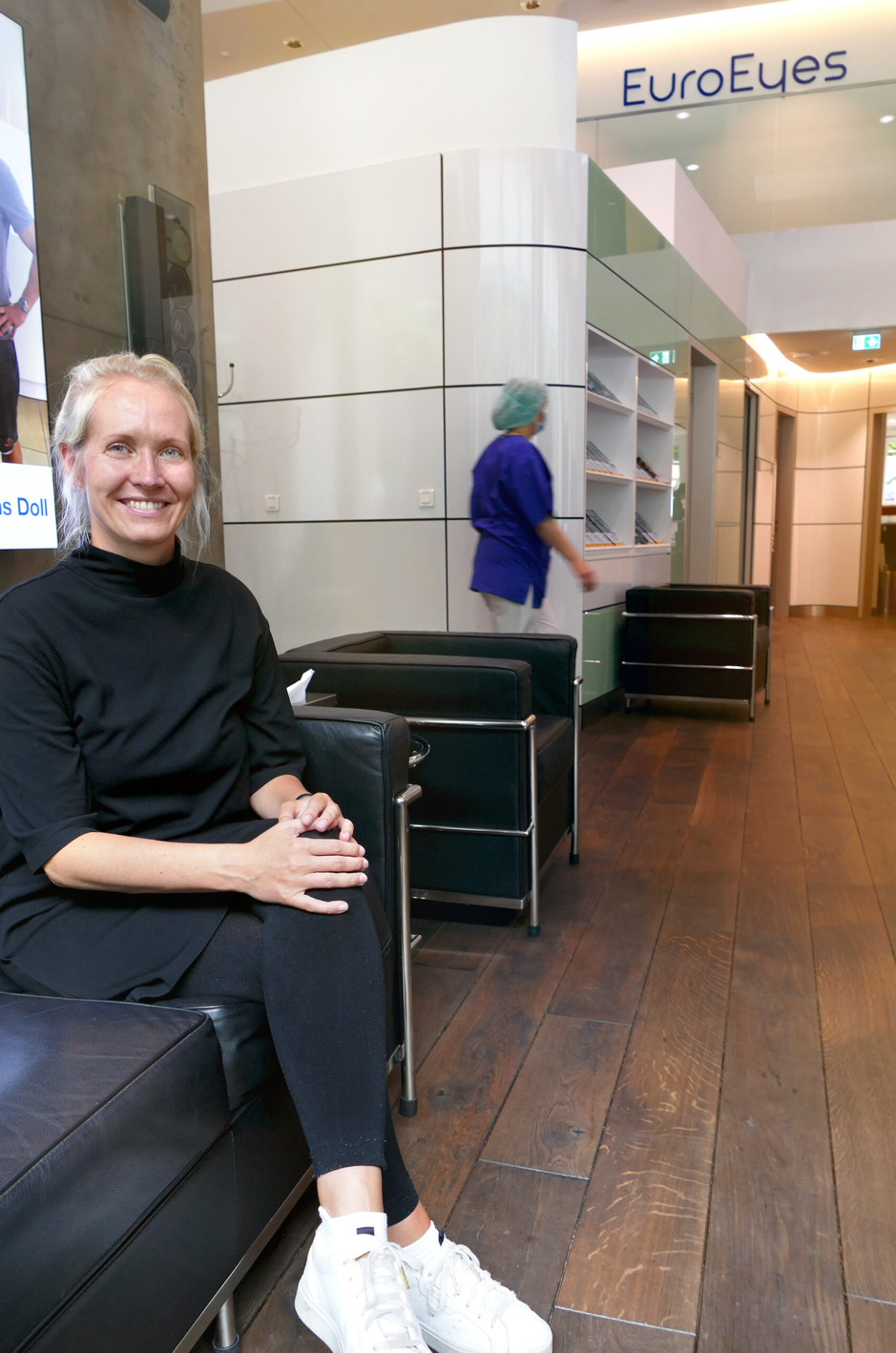 How long have you been wearing glasses?
I have been dependent on glasses since I was 8 years old, and I switched to contact lenses when I was 14.
What did you find particularly annoying in everyday life?
Since the diopter values ​​deteriorated to -7.5 D and -5.75 D (contact lens values) up to the age of 30, wearing glasses was not optimal due to the strong refraction. I decided to wear contact lenses, which became more and more tolerable from monthly lenses to daily lenses. In the evening I often had dry eyes and I knew that the tolerance of contact lenses would soon be over. With such strong myopia, I always had the feeling or the panic when traveling that I had to stow an infinite number of contact lenses in as many pockets as possible and also had the second pair of glasses with me.
I was always afraid of losing my contact lenses when swimming in the sea with waves, submerging in the water or jumping from the edge of the pool. The contact lenses also feel very uncomfortable in the eye when they come into contact with water.
Did you have to think long and hard before deciding on the procedure?
I have already dealt a lot with the possible vision correction procedures, since we, Second Elements, support EuroEyes as an external partner in online marketing. I was therefore able to gain deep insights into the working first-class methods, development progress and top doctors. Many satisfied patients also gave me the courage to take this step.
I am so grateful to have found a really gentle solution with the ICL method to correct severe myopia.
How did you feel about the operation?
Super fast and absolutely painless. The operation was carried out on two days for me, although in retrospect I would probably decide on one day, because it was just so super fast and uncomplicated. I was operated by  Dr. Jørgensen with his sympathetic and calm Danish manner he really takes the last of the patient's agitation during the 10-minute procedure. He did that really well! Due to the severe ametropia I also received a "transparent" eye bandage, which I personally found very good. So I was able to see immediately after the operation which of course calms you down before you "reveal the secret" the next day.
For the first two weeks after the operation I still had the slightest feeling of a small foreign body in my eye, but that is absolutely normal and bearable as the eye is still slightly irritated.
Have your expectations been met?
Absolutely. I now even have a little over 100% vision, which I could not achieve with contact lenses and glasses, with such a high myopia including astigmatism. It's so fascinating that I can see things very clearly now because I just didn't know that you could see that well.
Are professional or private changes already visible in your life?
The daily taking of contact lenses in and out has finally come to an end and I can now just do all things without thinking about whether I have enough contact lenses in stock. I feel free!